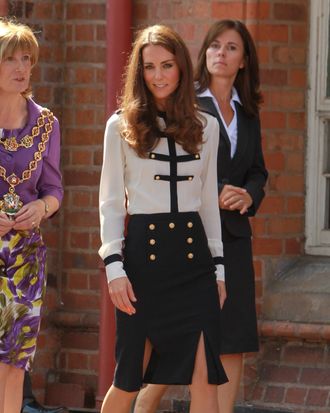 Kate Middleton.
Photo: WP/SplashNews/? www.splashnews.com
If it's been driving you crazy that Kate Middleton is staying inside with her fashionable clothes, it's for a good and necessary reason. She's in princess camp, you see, which consists of briefings "on how the State works, getting to know our national institutions better and learning more about organisations such as the arts, the media and the government," a source tells the Telegraph. Her husband Prince William wanted her to be prepared for royal life, which his mom Princess Diana wasn't — something she complained about to the press, who were sympathetic to her difficult position.
See Kate's past outfits in the sadly not recently updated Kate Middleton Look Book.