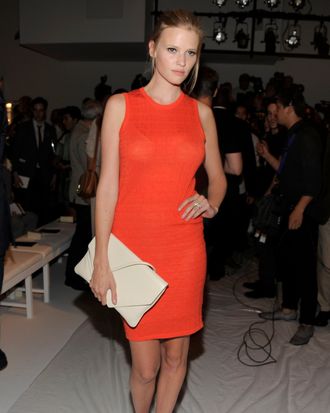 Lara Stone.
Photo: CLINT SPAULDING/? Patrick McMullan
Lara Stone is so impossibly beautiful, it seems like she would live in an impossible reality — in a house made entirely of black lace, where she exfoliates with crushed pearls, and is carried everywhere by six male models wearing nothing but black sarongs and tape over their mouths. While all of that may or may not be true, she confirmed that she did in fact behave the way a normal American would while she was living in the Netherlands, where she's from.



"I used to smoke so much pot when I was living there," said one of the world's highest paid models.

"That's why I can't remember so much. But really it's just a plant."
Okay, maybe she has a better defense than most of us with that "it's just a plant" line. Stealing!
Comedian David Walliams' wife model Lara Stone says she has lost her memory over smoking so much cannabis [Daily Telegraph via T Magazine]