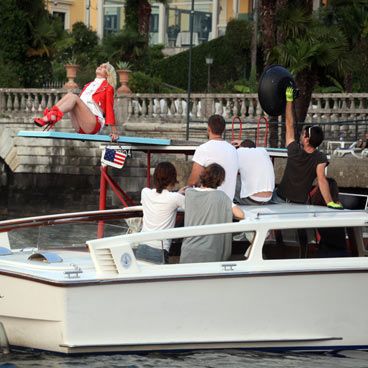 Lindsay Lohan plus camera crew.
Photo: Mr Cool/VicinoIorio /Splash News/? www.splashnews.com
Lindsay Lohan was named the new face of German label Philipp Plein last week, and yesterday she shot their summer 2012 campaign near Como, Italy. Wearing red short-shorts, platform stilettos, and a faux-leather jacket with rhinestones on the collar, she clutched an American-flag-printed purse while attempting to recline sexily on what appears to be a portable diving stand. Say what you will about the outfit (and, well, Lindsay in general), but that does look like a tricky job.