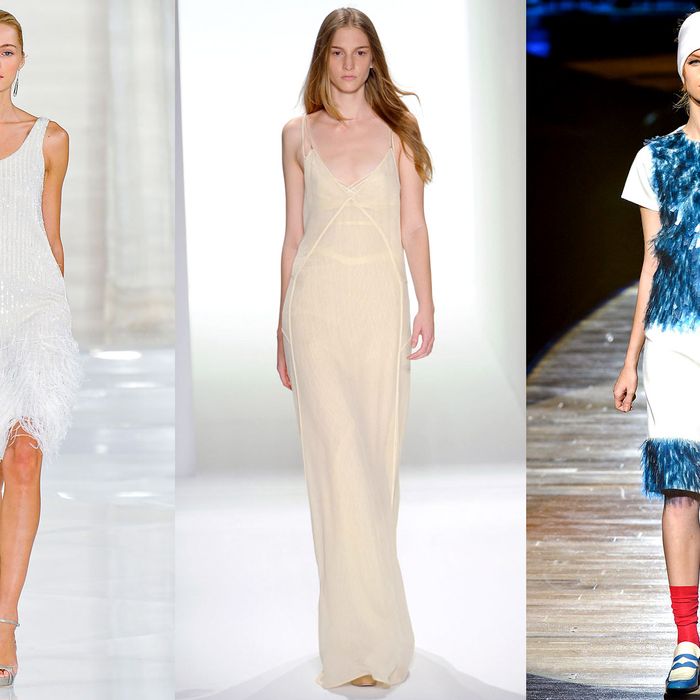 From left: spring looks from Ralph Lauren, Calvin Klein, and Marc Jacobs.
By the time the spangled, skin-tight sheath snakes down the runway — really an aisle through two rows of luncheon tables — the cone of French fries in front of me is just about empty. L'Wren Scott feeds her jaded audience lunch, and if that is not inducement enough, Mick Jagger is dining with us. But as I stuff my face, and admire a beaded fire-engine-red cardigan, and gaze with a little less enthusiasm at a hard blue velvety frock coat, my mind drifts to the designer herself.
In this season of flapper dresses — paging Daisy Buchanan! — Scott is in truth rather a Jay Gatsby-esque character. Her nutty name was not bestowed at birth, and she has managed to obscure, even in this information age, most of the details of her biography, like James Gatz himself. Scott appears to have sprung full-grown, a willowy aristocrat on the arm of one of the most famous men in the world, but of course this is not the case. In fact, she was born Luann Bambrough and raised in Utah.

See the Complete L'Wren Scott Spring 2012 Collection
See the Complete Ralph Lauren Spring 2012 Collection
See the Complete Calvin Klein Spring 2012 Collection
See the Complete Marc Jacobs Spring 2012 Collection