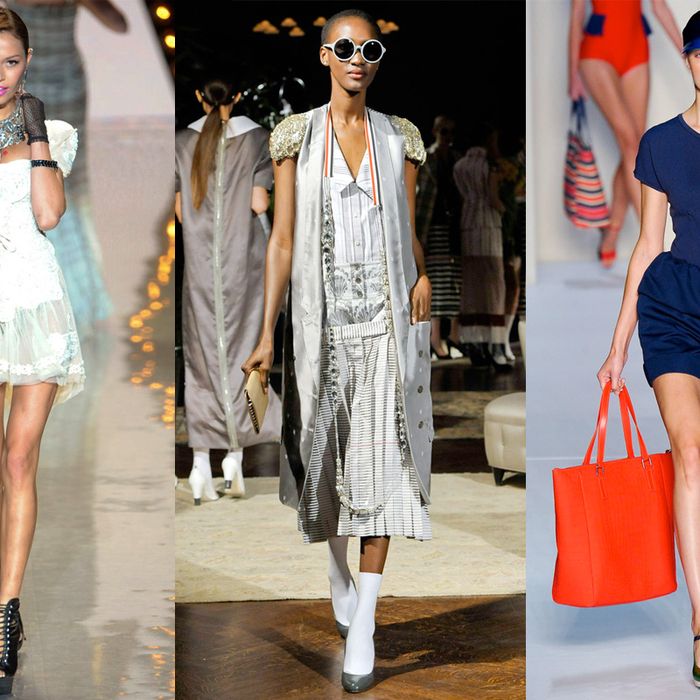 From left: spring looks from Betsey Johnson, Thom Browne, and Marc by Marc Jacobs.
These are indeed lean times. There's not even a bottle of perfume on the chairs at Carolina Herrera, and other shows that used to shower attendees with Kiehl's lotions and candy have all but halted that dubious practice entirely. But if Herrera, who was born in 1932 to great wealth in Venezuela, stints on the cologne, she is generous to her particular audience, presenting the kind of clothes that suit women of her station and generation, including Babe Paley–worthy dresses rendered most memorably in a pattern of birds, which is pretty rather than (as is the case with so many other designers who have manipulated, pixelated, and otherwise deconstructed prints this season) overwhelmingly witty.
There aren't any swag bags at Donna Karan either, but that's okay! Because here is Donna herself, in a studded khaki tank-top and wooden ethnic jewelry as big as your hand, flapping about and posing for photographs before the show even starts. A gaggle of models stand at the head of the runway, clad in what Karan calls her Casual Luxe collection, by which she means fishing vests and other silky separates that are definitely casual, and in a few cases, maybe borderline luxe. The C.L. girls are followed by a proper catwalk show, which relies heavily on mud-printed frocks and separates, the aesthetic fruits of the designer's recent forays to Haiti.

See the Complete Carolina Herrera Collection
See the Complete Donna Karan Collection
See the Complete Marc by Marc Jacobs Collection
See the Complete Thom Browne Collection