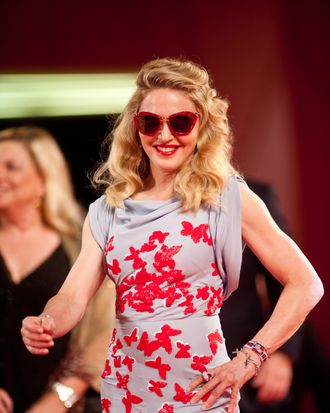 Madonna at the Venice Film Festival yesterday.
Photo: Ian Gavan/2011 Getty Images
You'd think that Madonna would have cornered the market on the name "Material Girl," but no — it turns out that someone else piggybacked off her title for a clothing line way before she did herself. A brand called L.A. Triumph has sued Madonna and her Material Girl for Macy's label because they've been selling their own juniors line with the same name since 1997. Madonna's reps have tried to have the case thrown out, arguing that she's a "senior user" of the trademark (seeing as she basically invented it). An L.A. judge denied their request, however, and the case is slated to go to trial in mid-October.