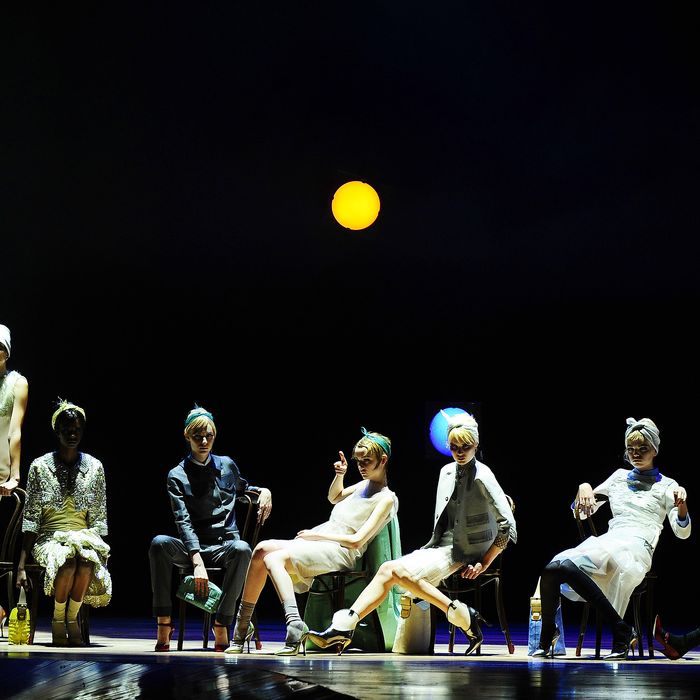 Models pose for the finale of the Marc Jacobs Spring 2012 Collection runway show.
Photo: EMMANUEL DUNAND/2011 AFP
Whatever the actual potential that Marc Jacobs is about to take over Christian Dior, after his show earlier tonight, there can be no doubt that he is one of the most exciting designers in the history of clothes. Working from inspirations as diverse as Amy Winehouse and deserted dance cabarets in the American South, Jacobs showed a collection that was thrillingly modern, inventive, and cool. There were flapper dresses imagined with gigantic, plastic paillettes, and ankle boots made from silver and plastic with elegant little heels. No one is as good as Jacobs at distilling disparate ideas, references, and inspirations into something cohesive and original. Because of delays caused by the earthquake and the hurricane, Jacobs wound up with the final show of the week. As the golden curtain closed on the 45 models — assembled in a dramatic and elaborately-lit tableau vivant — it seemed like exactly the right timing for him: an exclamation point on the week. If Jacobs does go to Christian Dior, it will be incredibly exciting to see what he does with a haute couture atelier.