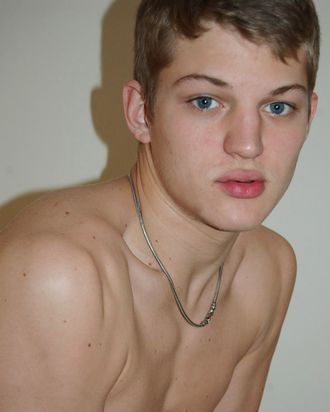 Photo: Courtesy of Premier Management
American-born, English-raised Sebastian Sauvé had major reservations about becoming a model. But with a nudge from his girlfriend, he decided to give it a go, and now the 24-year-old's career is on a fast track. Sauvé had quite the impact on the editorial world last year, booking the fall cover of German L'Officiel Hommes, along with spreads for Italian GQ and i-D magazines. And this past June, he walked for the spring 2012 Versace, Calvin Klein, John Galliano, and Givenchy shows in Milan and Paris. We met with the rising face (who will also be doing a Model Diary for us this coming New York Fashion Week) to talk about his guiltiest pleasures and why aspiring models should rethink their goals in life.
What were your thoughts on modeling before you started?
I have to be honest; I thought it was kind of stupid. I always thought all the models looked the same, like skinny, pasty, and ill 16-year-old children who appeared completely depressed in all their pictures. If I saw a healthy-looking guy wearing a suit with a smile on his face instead, I'd be more likely to buy that suit.
Explore other rising stars (plus all the big names) in our extensive Model Manual, featuring runway pics, glamorous editorials, model bios, career timelines, and more.