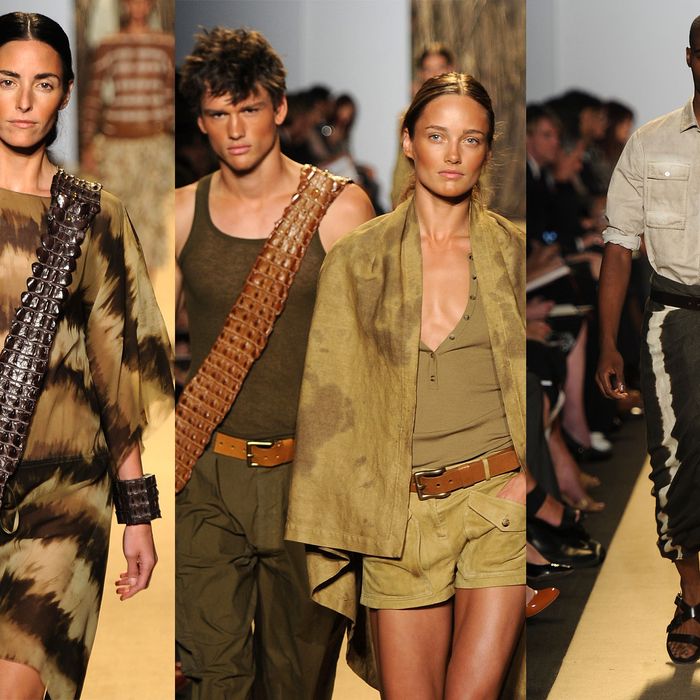 Spring 2012 Michael Kors looks.
Photo: Frazer Harrison/Getty Images
In the tents this morning, one of the most typically star-laden and crowd-pleasing shows of the season — Michael Kors — occurred. The show notes began with "now voyager… memories of Africa… the rustic modernism of the Lebombo Lodge… an easy laid back attitude" (the ellipses are not ours), and ended with "oversized travel bags and strappy belts finish the mood… afriluxe." Should we be grateful that he didn't just lump himself in with the hi ho Asia designers?
The show was interesting for Kors, who is so often clean and polished in his runway collections, because the models came onto the runway actually looking a bit soiled and sweaty, in a different (but not dissimilar) way to the preferred unshowered look of those hipster-tastic shows in the previous decade—before minimalism, color-blocking, and dressing up became the things to do with clothes. The show even included a couple of man sarongs. This was not Times fashion critic Eric Wilson's favorite Kors moment. "The collection looked more like hillbillies on safari," he wrote. "The clothes he showed, on a runway covered in burlap, were torn and ripped, sewn in crude patchworks, or just dirty looking." It should be noted that none of Kors's front-row famous guests — Rosie Huntington-Whitely, Rachel Zoe, Michael Douglas, and Zoe Saldana among them — seemed to be going for the fresh-off-the-safari look.