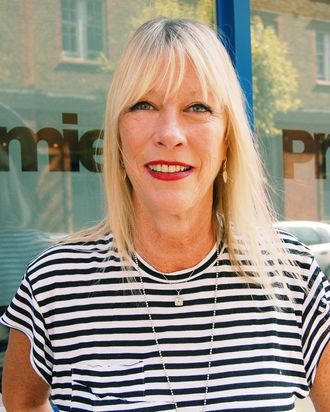 Founder of leading British model agency Premier Models, Carole White is renowned for launching and nurturing the careers of supermodels like Naomi Campbell and Claudia Schiffer. Among its current five divisions, Premier provides U.K. representation for rising stars like Kelly Mittendorf, Melodie Monrose, and Wang Xiao. We spoke with Carole just before the spring 2012 shows began to hear her thoughts on the current state of the modeling industry, the importance of supermarket sandwiches, and — oddly enough — how it took a reality TV show to get some peace and quiet in her agency's office.
So aside from going to shows, what else do you do at New York Fashion Week?
What we do each season is develop a few girls who are of the right age to be able to travel. It's a bit like marble swapsies. You go to agencies that you have a really good trust with, and trade girls we'll be bringing to New York for girls we can take back with us to London. It's all part of our development. Because they have to be international, these girls. They couldn't just sit in London and die.
But even with all these newer markets open, the industry seems to be getting a lot more competitive.
Yeah. The whole market is so competitive now — a girl can go one season and you might never hear from her again. Or she can do two or three, but then behind her shoulder is another 16-year-old that's going to take her place if she doesn't really get it. That's the big thing, because British girls aren't so brave. I think they're spoiled and their education maybe isn't that good. Modeling's difficult, and British girls often give up if they have a boyfriend, or they didn't do that well in a casting or a shoot; they often say the traveling's too hard, and they'd rather go to the festivals in the summer than actually go to New York for the shows. And they don't have that self-discipline that Brazilian or Eastern European girls have — they really want it. And most of them are sending money back home for a reason. They come from poor backgrounds. English girls are particularly spoiled. They haven't got any guts. That's my biggest challenge, I have to make them all have guts. A bit of true grit is needed.
And one obligatory last question. We're still enjoying all things Middleton; what's your take on the newly minted Duchess?
I think she's brilliant. She's so composed, she's beautiful, she's got the most incredible figure. I like the way she dresses. It's good, and she's wearing [British] designers' dresses. That's a great thing for the industry here.