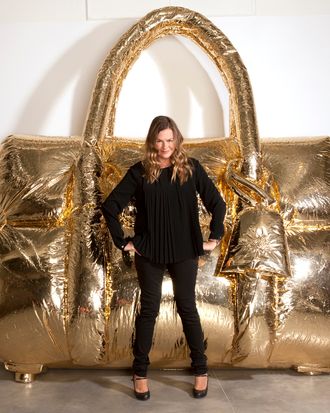 Photo: Richard Lewisohn 00447956395901
Mulberry's first U.S. flagship opens today in Soho, a gold-and-wood 5,000-square-foot space filled with the heady scent of leather. The bags are strewn across oak shelves in brilliant shades of buffalo, ostrich, lambskin, and patent leather, including the New York–exclusive Clipper bag ($950; slide 11). Taking inspiration from the storefront's past as a printer's workshop, more than 8,000 hardcover books line the walls and displays, while a giant, gleaming gold handbag towers in the front window, creating an English-country-house-meets-high-style effect.
The same description could apply to the label's creative director, Emma Hill, who has headed up the design team since 2008. Though she previously spent time as a New York transplant while designing accessories for Marc Jacobs and Calvin Klein, she's a native Brit with chic but irreverent style sensibility. (Fittingly, she's hosting a tea party at the new store to celebrate the opening.) We caught up with the designer to discuss her favo(u)rite New York spots for shopping, drinking, dancing, and splurging — as well as those where you have the best chance of picking up a Brit.
Mulberry, 134 Spring St., nr. Wooster St.