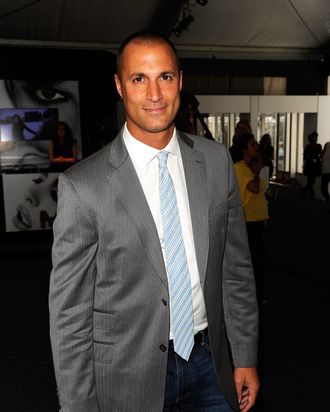 Nigel Barker.
Photo: Andrew H. Walker/2011 Getty Images
Despite the CFDA's urging for older models on the runways, America's Next Top Model judge Nigel Barker finds that most of the girls are "still looking very young. Very young," he said at the Cynthia Rowley show yesterday. "I know that there's this age issue that they're now not allowed to be under 16, but they seem like they're all 16. It would be nice to see older people on the runways. The fashion industry has had an issue with weight for so many years, and we've been trying to address that, but still, very skinny and very young." This concerns him: "We should see fuller-figured girls, and older! Why don't we just see women? I mean, women are who buy the clothes. If you can't put them on a woman, what are you trying to say?" So might we see a "mature" version of Top Model? "We've been accused of having "mature" America's Next Top Model from the get-go! Because you're not allowed to start ANTM until you're 18, which in the modeling business is relatively senior, almost — when you realize girls start at 14 and 15. Many of our contestants and winners have been in their 20s. I know it doesn't seem very old in the grand scheme of things, but in the modeling world, you're a veteran."
See the complete Cynthia Rowley spring 2012 collection.
See backstage and front-row pictures from the Cynthia Rowley show.