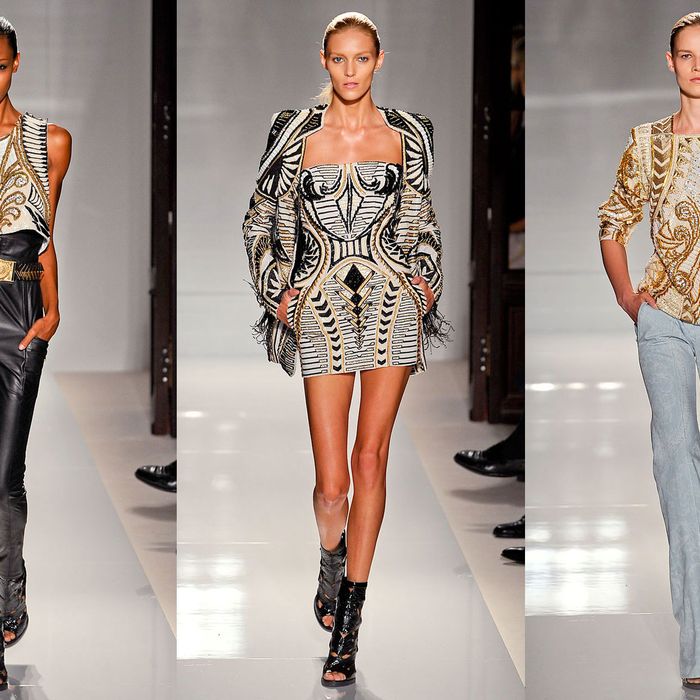 New spring looks from Balmain.
Balmain's new head designer, 26-year-old Olivier Rousteing, wasn't expected to bring about many changes when he took over for an ailing Christophe Decarnin in April. Many speculated that he'd already been doing Decarnin's job for a while, since the former designer had reportedly been grappling with psychological problems for quite some time and Rousteing was his second-in-command. Rousteing's first show in his official new position took place in Paris today, and so far has been well-received. "He obviously has a deep understanding of what has made Balmain so successful," said British Vogue's fashion editor Fran Burns. "He's really well versed in the DNA of the brand and it's clear that he knows what the Balmain woman wants." WWD applauded Rousteing's ability "to carry the torch for all the things for which his predecessor stood, minus the grime and plus a glimmer of sunshine." In other words, this collection's gleaming, gold-embellished dresses and jackets actually seem to look every bit as expensive as they are, which is a respectable accomplishment.
See the Complete Spring 2012 Balmain Collection.
Balmain RTW Spring 2012 [WWD]
Balmain Show Report [Vogue UK]
[AP_Fashion/Twitter]