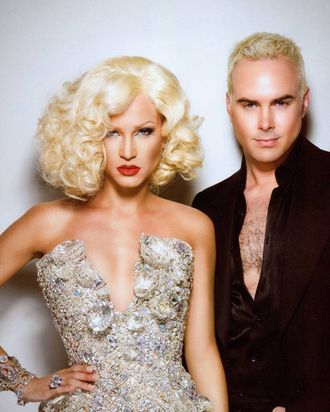 The Blonds' fashion show never fails to be a ray of joyful, sequin-filled sunshine in the midst of all the nervous tension of Fashion Week. You can always depend on lots of cleavage, drag queens, and a naked butt cheek or two showing up on The Blonds' runway, if not in their front row. So it seems quite natural that the label officially partnered with Playboy for their spring 2012 show, delving into the magazine's archives for design inspiration. We chatted with David Blond about The Girls Next Door, bunny tails, and more; you can also see a first look at their sketches in the slideshow.
Did you have a sneaky, awkward first encounter with Playboy, like most kids do?
The first time I saw a Playboy was at the barber shop with my grandfather. He'd take me to this old-time kind of place with those leather chairs and that spinning, striped pole out front, and we'd go get our hair cut. So they had magazines there, and I'd sneak over and hide the Playboy inside of a Reader's Digest, and then I'd look at all the ladies.
Any bunny tails on the clothes?
There will be elements of the actual costume in the show. The bunny head itself will be an element, too. But it'll definitely be our version of the bunny; like a future-esque bunny.