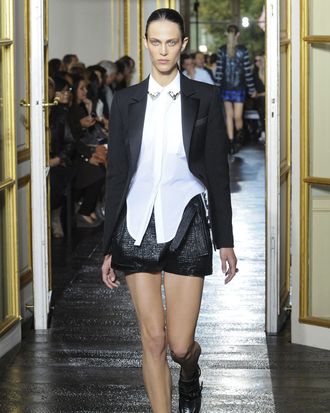 Aymeline Valade walks the spring 2011 Balenciaga show.
Landing a Prada catwalk exclusive was widely considered to be the holy grail of runway bookings, turning an unknown face into one to watch in an instant. Models like Sasha Pivovarova and Lindsey Wixson have reaped the rewards of this coup in seasons past (fall 2005 and spring 2010, respectively), booking campaigns for the label and many others, on top of numerous magazine covers and guaranteed spots on the world's best catwalks. But recently, Balenciaga started booking exclusives as well, and the label's reputation for brilliant casting has begun to rival Prada's.
This begs the question: Whose word is worth more when it comes to the birth of a model's career? While Prada has major success stories with Pivovarova, Wixson, and Irina Kulikova (who walked in fall 2007), some of the label's other exclusives never really took off (Bara Holotova from fall 2009 and Nicole Hofman from spring 2010, to name a few). Meanwhile, Balenciaga is still a new player in the exclusive game, so the jury is out. Keep a close eye on this season's Prada exclusive Lara Mullen and the yet-unknown Balenciaga exclusive to see.