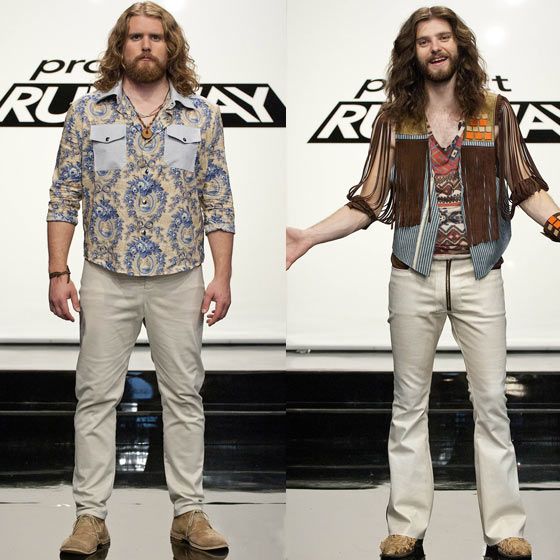 This episode was a travesty. And not just because menswear challenges are always a mess on this show.
For a challenge that includes a dizzying number of cross-promotions, the designers have to create a new look for Rolling Stone cover stars and new band, the Sheepdogs. At the same time, though, it's not really a new look because the band members all had reasonably set ideas about their style and the image they need to portray. So yes, it's another design brief with messy parameters that the judges can (and, spoiler, DO) tailor to their whim. And that "tailoring" on their part was just about as bad as that of the mens' pants walking the runway. Apart from Viktor's pants, that is.
Though the judges seemed to have found the most serious flaws in both Anya and Kimberly's designs, they auf our fave Olivier — deciding his prior experience in the field meant his failure was a bigger fall from grace than the stumbles made by the menswear newbs. So while Olivier took his exit with understated grace and some halfhearted hugs, we're having a tantrum …. this will be the last recap this season — okay, not really, but we'll now mainly be watching to see if anyone pulls the quit card late in the proceedings and he gets to come back. Fingers crossed, toes crossed, and hair plaited — okay, not that last step. Review all the designs from last night's episode in the slideshow.