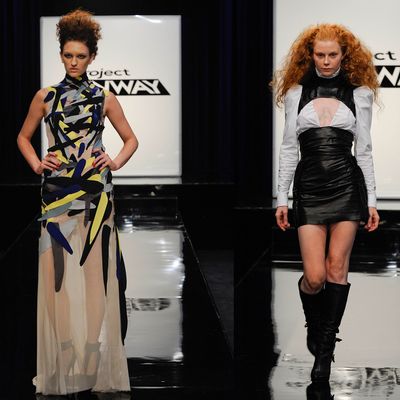 This week's challenge just must have taped after one of the rare days off in a Project Runway season's shooting schedule, because the designers all seem to awake refreshed, balanced, and ready to put their differences behind them. Even a particularly arbitrary design brief, involving schoolkids no less, didn't really break their shiny happy veneer. And while this was a welcome change of pace after last week got a bit too nasty, it's surely only a fleeting display of camaraderie (see: the end-of-episode teaser for next time around.)
Paired with a student from the Harlem School of the Arts, the designers watched — some more nervously than others — the kids paint, and helped a little bit too, covering canvasses with all sorts of designs: washed-out flowers, a dark sliced and diced werewolf, Kandinsky-esque cubism, and some impressionistic self-portraits with daubed-on crowns. Quelle coincidence, that crown adorned this week's winner, before he even knew it. These works of art were then the inspiration for this season's first round of dreaded — and in this end, dreadful — avant-garde looks.
*we are so PAINED to have to drop Olivier from our projections, but goshdarnit it we're determined to call the finalists correctly as early as possible.