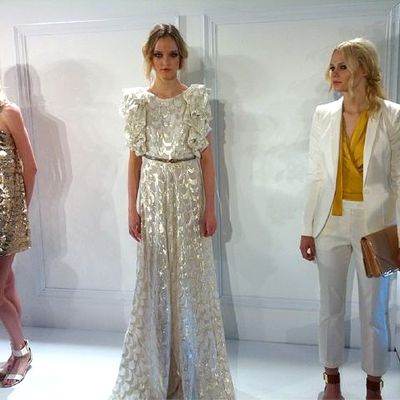 Looks from the Rachel Zoe collection, spring 2012.
This afternoon on the 32nd floor of a midtown skyscraper, a camera crew shadowed Rachel Zoe as she showed the spring 2012 collection for her namesake line. Zoe characters like her husband Rodger and "execubitch" Mandana milled about as she greeted her fellow fashion luminaries — Elle editor Robbie Myers, Neiman Marcus fashion director Ken Downing, and Japanese Vogue fashion director Anna Dello Russo, who chatted with Zoe on-camera. "I want you to wear it!" Rachel told Russo. Would she? "I'm wearing, for sure, the white stuff over there," Russo told us when she stepped off-camera. "I think Rachel is doing very well because she has her own aesthetic, and she also projects herself in the clothes. It's really, like, L.A. — an L.A. collection but done in an international way."
For spring, Zoe says she looked to "Brigitte Bardot. Late sixties, early seventies, running around the south of France, being her glamorous self, but never kind of trying to be glamorous, she just is because she's like the coolest thing ever." Part of Zoe's prescribed effortlessness can be seen in the flats — flats! — worn by many models.