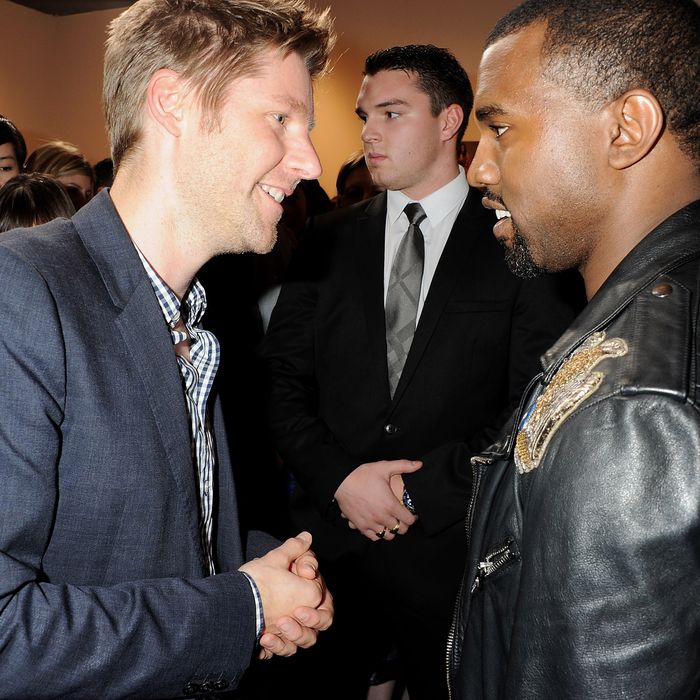 Kanye greeting Christopher Bailey after the Burberry show.
Photo: Dave M. Benett/2011 Getty Images
There will be no shortage of rumors of all levels of absurdity leading up to Kanye West's purported Paris Fashion Week show, probably partly because nothing terribly interesting or exciting has happened yet this season. Can Kanye add meaning and his usual spark to the spring 2012 shows? If the rumors Grazia reports today are true, maybe. Their source says the line is being made by Central Saint Martins graduate students in Turnmills, "an enormous, now-defunct nightclub in London." They are being led by ex-CSM students Louise Goldin and Dean Quinn, and are probably also being consulted by Louise Wilson, who heads the school's graduate fashion program. More from this anonymous source:
'Kanye was in fairly often (for all the fittings) [he] was very nice and polite and talked knowledgably [sic] about shape etc. but was prone to changing his mind a lot — in fact the whole process was slightly excruciating as there were SO many opinions that it took forever to get anything done'. Our source went on to say they would be 'amazed' if the collection is ready in time for Paris Fashion Week, 'and that's quite likely the reason it wasn't shown last week at New York Fashion Week after all'.
Kanye West's Fashion Range! The FULL low-down! [Grazia UK]