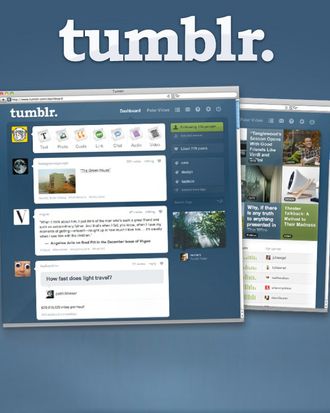 Maybe this is why fashion brands are so furious at Tumblr fashion director Rich Tong right now: the blogging platform is trying to get brands and labels to pay for coverage at New York Fashion Week this season. Reports the Observer:

The proposal asked for $100,000 to have 4 of Tumblr's "select bloggers" produce 15 posts for the brand's Tumblr during the week, with the "exact nature of the content to be agreed upon prior to the start of the week."

For $150,000 brands could get ad placement on the official NY Fashion week Tumblr. For $350,000 they could get ad placement on the Tumblr tagged "fashion" page.

For $10,000 big fashion brands could spend a little quality time with the 20 select bloggers at a private event. Product placement was also offered "At cost", with the "influential tastemakers" being promised at a group rate.
Related: Fashion Brands Have Started to Air Grievances About Fashion-Hungry Tumblr
Fashion Week Flameout: Why the Industry Is Erupting at Tumblr and Rich Tong [BetaBeat/NYO]