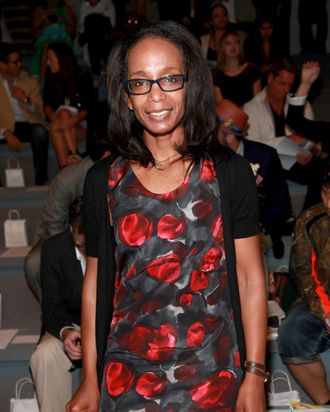 Robin Givhan.
Photo: Astrid Stawiarz/2010 Getty Images
Veteran fashion critic Robin Givhan has never been one to shy away from controversy, and Lady Gaga's recent rant against the Times's Cathy Horyn is no exception. When we bumped into Givhan at Jason Wu yesterday, she weighed in:

Robin Givhan: I'm on Team Cathy on this one.
The Cut: Oh?
RG: I thought her comment was ridiculous. I mean, yes, everyone is entitled to their opinion. Everyone has their own personal aesthetic. A lot of it is very subjective. But yeah, I do think that some points of view should carry more weight. I think when someone has a whole decade or more of context, then yeah, I think that their opinion does carry more weight. It's a little like saying, 'I don't think my professor's opinion should carry more weight than the freshman in his class.' I mean, there's a reason you come to the professor — it's because of their knowledge, and because of what they can offer to you. And certainly a wise professor is open-minded and listens to his students, and perhaps is surprised and thinks about things in a new fresh way. But I think to dismiss knowledge and experience — I mean, what is that? Like, anti-intellectualism?

Related: Lady Gaga Makes Cathy Horyn the Luckiest Girl in the World
See the complete Jason Wu spring 2012 collection