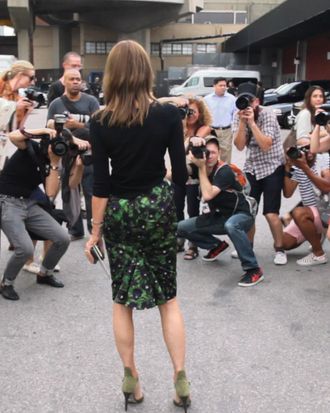 A few weeks ago, Marie Claire editor Taylor Tomasi Hill ran into an old friend outside a fashion show in Lincoln Center. They both stopped to catch up, but were interrupted by a man who tapped the friend on the arm. "Excuse me," he said, "but do you mind stepping aside for a moment while I take her picture?" He was pointing to Tomasi Hill. Nonplussed, the friend backed away, and a swarm of photographers quickly closed in.
Tomasi Hill is a member of a new, elite class of fashion celebrities whose pictures (and shoes and bags and outfits) are fanatically snapped outside of fashion shows and events by street style photographers. Images of these fashion insiders — models, stylists, buyers, and editors — going about their glamorous lives are now so sought after that they've created an entirely new category of fashion photography. These photographs, seemingly casual and snapped on the fly, now appear regularly on retail websites, blogs, and in ad campaigns and print magazines to demonstrate how "normal" people incorporate certain looks into their everyday outfits. What was formerly the realm of professional, meticulously staged fashion shoots has had to make way for a new medium of informal, more natural-looking images of real people going about their real business — and looking great while they do it.
Alex Rees contributed reporting for the slideshow.