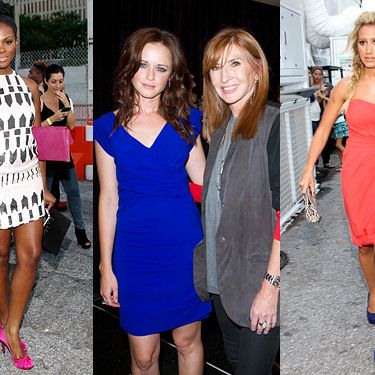 From left: Tika Sumpter, Alexis Bledel, Nicole Miller, and Ashley Tisdale.
Front row at Nicole Miller on Friday night was apparently kind of a hot ticket, because when we walked in, people were actually sharing seats. Sure, those people were Jennifer "Sister of Ashley" Tisdale and her seatmate, Rachel Griffith's very cute little girl Adelaide, who was trying valiantly (and unsuccessfully) to fit herself between them without squashing anyone, but still: We haven't seen lap-sitting at a fashion show among the over-twos since the last time Heatherette put forth a collection.
See the complete Nicole Miller collection.
See pictures of Ashley Tisdale, Alexis Bladel and more at Nicole Miller.