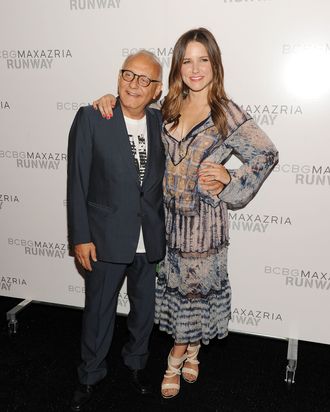 Max Azria and Sophia Bush.
Photo: Jason Kempin/2011 Getty Images
Before we even set foot in the tents this season, we saw ethereal, venerable fashion nutcase Tilda Swinton (we say that with great affection) on an airplane, Tony Shalhoub in an elevator, and Louise Roe staring sadly out the window of a hotel. It seemed impossible that Fashion Week itself could top a fame assemblage that random, but we were wrong: Halfway through the BCBG show this morning, we noticed a tan blonde in a peach strapless dress that was a tad prom-adjacent for 10 a.m. on a Thursday, and realized it was none other than 7th Heaven's Beverley Mitchell, who is also pretty much the seventh most famous person from that show. At this rate, it will be a grave disappointment if by week's end we haven't seen that girl from the nineties show Out Of This World, who used a nightstand crystal to talk to her alien dad, Burt Reynolds. And also actual Burt Reynolds.
See the Complete BCBG Max Azria Spring 2012 Collection
See Backstage and Front Row Photos From the BCBG Show