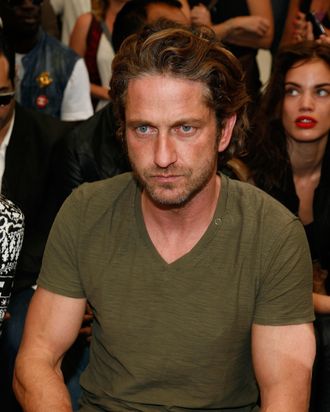 Gerard Butler.
Photo: Andy Kropa/2011 Getty Images
There is something magical about watching an artist at work, which is exactly what we did at Diesel Black Gold Tuesday afternoon. Although in this specific instance, we're not talking about what was on the runway, but what was happening across it; rather, we are referring to Gerard Butler, master pickup artist.
For a long while the front row sat empty, and since we knew past attendee Chace Crawford was up in Toronto at the film fest, we began to wonder if every celeb who wears Diesel had migrated north for the week — especially after we heard someone who looked like a PR girl hiss, "No one is here," to an official-looking person standing next to us. But then, as surely as the sun rises in the east, there was a kerfuffle as a group finally emerged from backstage, to the point where event organizers yelped for more security. The newcomers were a gaggle of models (including Petra Nemcova), Diesel founder Renzo Rosso, and a lone wolf in a tight T-shirt: Gerard Butler, tragically all by his famous self, alone in a sea of estrogen. We're sure this was an agonizing development for him, and we're proud of him for staying strong. Though we do wish he had done his hair a bit — the semi-feathered-looking coif looked like it had been styled with last night's pillowcase, two-day-old gel, and pure testosterone fumes — but even then, and with his skinny-yet-super-buff physique, it's hard to deny that the man has pull.
See the Complete Spring 2012 Diesel Black Gold Collection
See Backstage and Front Row Photos from Diesel Black Gold