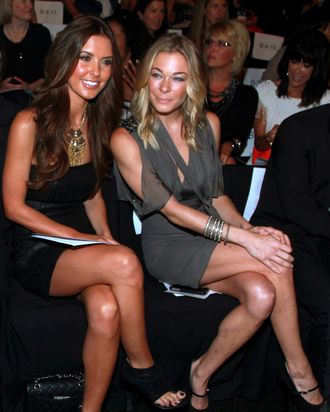 Audrina Partridge and LeAnn Rimes.
Photo: Astrid Stawiarz/Getty Images
We were standing off to the side at Badgley Mischka, looking at Aisha Tyler — as tall and pretty as ever in a navy blue dress — when a woman sidled up to us. "Who is that?" she asked. "Aisha Tyler. She's a comedian. She hosted Talk Soup for a while? She was on Friends?" we explained. At the mention of this obscure comedy, this woman wrinkled her nose. "What are you, a blogger?" Guilty as charged.
And therefore, it is likewise our duty to report that, in addition to Ms. Tyler, we also spotted Audrina Patridge — Misters Badgley and Mischka must dig The Hills, since we saw Lo Bosworth there last season — looking tan and tiny, as you would expect Audrina to look, although, in a pleasant surprise, somewhat less vacant. She was talking to reporters about her sense of style, noting, "I'll try anything on. I won't always wear it out of the house, but I'll try." Isn't that how the slippery slope begins, though? You try, you aren't sure, you wear it around inside for a while, and then you become desensitized and suddenly there you are at The Ivy wearing shorts made of cupcake liners and a tube top? To Audrina's left sat a very pretty brunette girl who mostly texted quietly and kept to herself because none of the press recognized her. We realized after getting booted off the runway that it was Victoria Justice. Suffice it to say, we have some nieces at home who will be very annoyed that we neglected to chat up the star of Victorious on Nickelodeon. Seated on Audrina's other side was, of course, LeAnn Rimes, because apparently it's not a front row anymore if LeAnn Rimes isn't there.
We were getting ready to take our seats when we noticed Beth Ostrosky on the other side of the runway, rubbing shoulders with Tyler and Boardwalk Empire's Aleksa Palladino, who plays Michael Pitt's lesbian artist common-law wife. We plonked down next to her in an empty seat and asked how her first Fashion Week was going. "You have to remember your first," she grinned. "It's strange but amazing at the same time. It's like a vortex." Which is much the way we feel about Aleksa's co-star, Paz de la Huerta, whom Aleksa told us with a laugh is definitely the best-dressed of her co-stars. As for her, when asked if she ever had that moment when she gets dressed, leaves the house and then later wonders what she was thinking, she said, "Actually, I've only had one moment where I'm like, 'That looks good … ' I'm learning." Aren't we all? And what better place to start than Fashion Week?