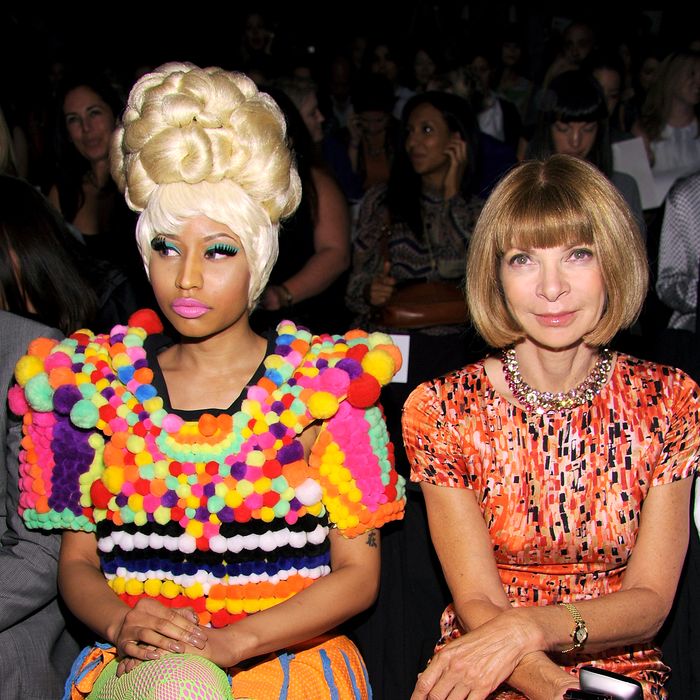 Nicki Minaj and Anna Wintour.
Photo: Dimitrios Kambouris/2011 WireImage
In Fashion Week, indeed as in life, sometimes the best things happen when the lights go down. Moments before Carolina Herrera's show began on Monday morning, as the room began to dim, we spotted in the distance a glorious platinum bouffant that looked like someone had shampooed with glue and then rolled her head in the pastry section at a local bakery. It sailed in atop a breastplate of pom-poms and neon green leggings, and only then did we notice the face and realize we'd just been Minaj-ed — and in possibly the least likely venue for it, given Carolina's classic Upper East Side aesthetic. Maybe they're working on a wig line together, called Carolina Hairerra. Let's stat that rumor. And let's add another one to the pile: Nicki sat in a seat that had been reserved for her right next to Anna Wintour (which makes sense — Anna loves tennis; Nicki's shirt was made of things that used to hang off the back of tennis socks), and they proceeded to chit-chat like old pals, leaving us with no choice but to daydream about what that Vogue cover might look like. Or, better, how tremendous their Odd Couple sitcom remake would be, with Anna cleaning up after Nicki's chains of stuffed toys and Nicki trying to teach Anna how to use wig tape. Are you listening, NBC?

See the Complete Carolina Herrera Spring 2012 Collection
See Backstage and Front Row Photos from Carolina Herrera