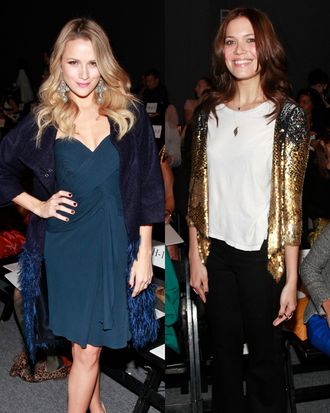 Shantel VanSanten went for a dress while Mandy Moore stuck to a plain white T-shirt and black pants.
Much like Cop Rock, the Jenny Packham show had a tough time slot, hers being 9 a.m. on Monday morning. We were dying for a coffee IV, but One Tree Hill's Shantel VanSanten didn't seem to have any such trouble, sauntering into the tents looking as lively as if it were mid-afternoon. It was a smart bet — whether she thought of it that way or not — to come to such an early show, and to arrive so punctually, because you rarely see a celeb in attendance at that clearly inhumane hour of the morning. (They have to get up too early to have their hair stapled in to make it to a show on time. Or so we assume.) Because she was the only person in the venue who didn't look like she was about to fall over, Shantel had the full and complete attention of the press for several long moments, with nary a request to share the spotlight with, say, Sophia Bush. Someone's PR has been paying attention.
Poor Shantel did eventually have to sit down, though, because Mandy Moore also made the trip to the tents. Mandy matched her gold-sequin Packham cardigan with very basic black pants and a T-shirt that looked for all the world like Hanes. "Jenny's stuff is so glamorous, so red-carpet, but … it's Monday morning at 9 a.m. I felt like I needed to keep it real," she told reporters, with a laugh. "It felt right to try and ground it a little." Well, it worked — she looked so cute, we altogether forgot about our caffeine situation, and that almost never happens.
See the Complete Jenny Packham Spring 2012 Collection
See Backstage and Front Row at Jenny Packham