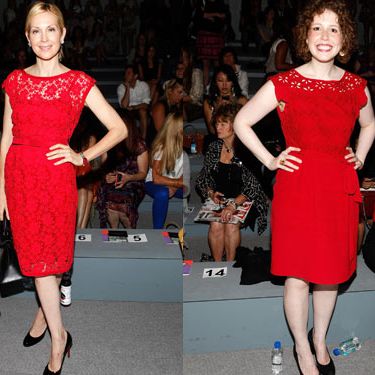 Kelly Rutherford and Vanessa Bayer.
Photo: (Photo by Amy Sussman/Getty Images for FIJI Water)
The Nanette Lepore show is always a very relaxing experience. We don't exactly know why — we suspect it's because her famous guests are a somewhat-random array of close personal friends and, thus, are neither crabby nor there to act like divas — but nobody ever pushes and shoves on the runway, somebody is always hugging someone else, and celebrities drift in so casually that we are often halfway through the show itself before we realize who is there. This season, it happened with Arianna Huffington — who, unlike last season, didn't vanish before the show began, although she did appear to be texting throughout it — and actress Carol Kane, as well as a woman sitting next to Stanley Tucci, who looked a lot like Broadway's Cady Huffman (The Producers) but, by the time we noticed her, it was too late to find out for sure. Which is too bad, because we doubtlessly could've come up with several probing questions about what it was like working with Ferris Bueller, and why she hadn't brushed her hair yet today.
Tucci was a bit chattier than he's been in the past (not difficult, given that he generally seems rather crabby at these events). When asked on-camera about his personal style, he started to answer, then paused and clarified, "I don't wear [Nanette's] clothes." He then spoke the sentence which confirmed that we are probably soul mates: Asked by a camera crew how he likes to unwind, Tucci said, "I go to dinner. Oh, but I have a martini first." Preach it, Stanley. We are already thinking about both of those things.
See the Complete Nanette Lepore Spring 2012 Collection
See Backstage and Front Row Photos at Nanette Lepore