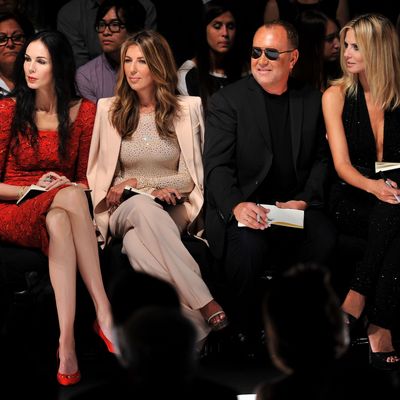 L'Wren Scott, Nina Garcia, Michael Kors, and Heidi Klum.
Photo: Stephen Lovekin/2011 Getty Images
The last time Project Runway showed in the tents, it was a year ago, and Jessica Simpson was the guest judge — this after a season in which the Lifetime show tapped noted fashionista and design savant Faith Hill, whose affinity for ill-fitting pants has been well-documented in the opening of Monday Night Football. So when we walked into the tent this time around and saw seats near Klum & Co. labeled "L'Wren Scott" and "Jennifer Love Hewitt," it seemed like a genuine toss-up as to which one might be the panelist — one is in fashion, the other … wears clothes, and is Lifetime's most noted and possibly only Golden Globe nominee for her role as a massage-therapist prostitute (prostisseur?), who also wore clothes. They're both totally qualified!
Watch the Project Runway Spring 2012 Collection runway video.