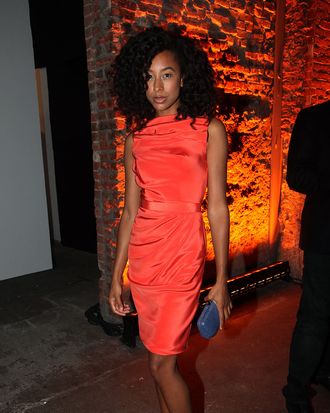 Corinne Bailey Rae.
Photo: Will Ragozzinonyc.com/BFA
It's always refreshing to see people at Fashion Week that we've never encountered before — they're like a celebrity sorbet, cleansing our starlet-weary palates — and Christian Siriano very thoughtfully gift-wrapped some for us at his show on Saturday afternoon. Modern Family's Sarah Hyland, wearing white, snagged most of the photographer attention — she is as tiny and Kunis-esque as you'd imagine, and seemed sort of shocked by the jockeying mob of journalists — but for our money, musician Corinne Bailey Rae looked the best. Her pink Siriano shoes were an unusual pairing with her orange cocktail dress, and the form-fitting above-the-knee frock Siriano provided for her was perfect: "You go into the [studio], there's racks of things everywhere, it's amazing," Bailey Rae said of picking it out. "You see all this gorgeous stuff hanging there, and if you see a color peeking out, or a hemline you like, you can try it on. It's a bit overwhelming." Sounds like a dream shopping spree: all of the retail therapy with none of the credit card bills.
See the complete Christian Siriano collection.
See pictures of Sarah Hyland, Heidi Klum and more at Christian Siriano.
Watch video of the Christian Siriano show.