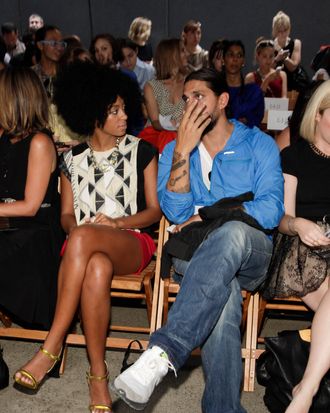 Maybe Solange Knowles should be on Glee?
Photo: ADRIEL REBOH/? Patrick McMullan
Saturday was a night of highs and lows for Ryan Murphy. Gwyneth Paltrow won an Emmy for her portrayal of Holly Holliday on Glee, but the show's Svengali was forced to wait in a gas station parking lot with the rest of the plebes outside the Band of Outsiders show. Murphy did so with nary a complaint, although he may well have been mentally composing an angry voice-over for Rachel Berry inspired by his time among the great unwashed. At least Murphy wasn't alone: He'd brought Kevin McHale, who was dressed in a way best expressed as "charmingly nerdish" — which might also be a good descriptor for Artie, his character on Glee.