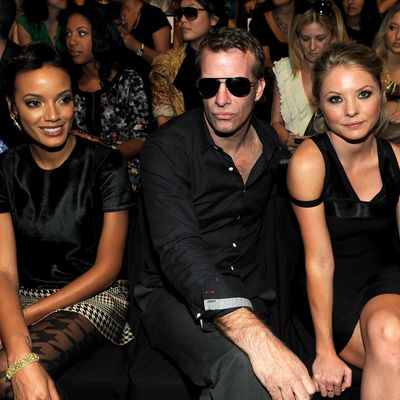 Selita Ebanks, Thomas Jane, and Kaitlin Doubleday.
Photo: Larry Busacca/2011 Getty Images
There's so much we don't understand about what happened in the front row at Hervé Léger on Tuesday. Our initial confusion stemmed from why the noted shoe-averse actor Thomas Jane was in attendance at a show focusing exclusively on bandage dresses better suited to the starlets who sandwiched him. Then, we wondered how Jane, so often barefoot on public pavement and red carpets alike, had been coerced into wearing shoes — and, thus, to whom we should address the thank-you note. Next, we scratched our heads over the identity of the familiar-looking blonde by his side (she proved to be Kaitlin Doubleday, a not-at-all famous actor). But the real puzzler came as the clock hit 2:38 p.m. — a common actual start time for 2 p.m. shows — when the press finally dispersed and retreated to its corners, security guys finally began uncovering the runway, and Jane finally … leapt up and strolled nonchalantly backstage. "Wait, he LEFT? What is HAPPENING?" we hissed to each other as we tweeted like the wind. What was the matter? Shoes too tight? Bladder too full? Had someone only just told him that Herve doesn't make bandage man-pants? We weren't the only ones puzzled; a behatted PR girl scooted over to his seat, paled, appeared to whisper, "Where did he go?" at Kaitlin and her seatmate, True Blood's Janina Gavankar, and then made an amused "WTF" face as the lights went down and she hurriedly filled his seat. Yes, they started without him. As the girls in the front row choked back giggles, we settled in to watch the show, assuming that it would just be a one-act comedy.