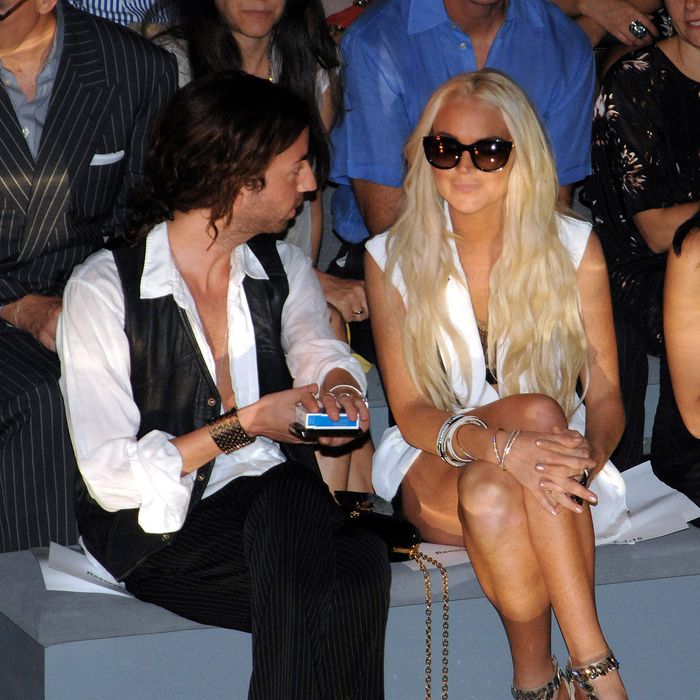 Lindsay Lohan and swashbuckling friend.
Photo: Duffy-Marie Arnoult/2011 Duffy-Marie Arnoult
The first celeb we saw at Cynthia Rowley's show Friday night — though by no means the last — was America's Next Top Model's resident dreamboat Nigel Barker, and the gravitational pull of his hotness pulled us down to the front row to ask him about the most important development that's occurred since we saw him in February: his once-again shaved head. And thank God. Nigel Barker with hair was like Tom Selleck without a mustache. Nigel explained that the shaved head is just cooler for summer, and that he'd only grown out his hair in the first place because he wanted to prove to his little girls that he was capable of growing hair at all. "I was astounded by the press I received," he said. "Miss J was rather pissed off that I was stealing his moment." Speaking of Top Model, we also couldn't resist wondering whether or not Nigel has read Miss Tyra's forthcoming young-adult magnum opus, Modelland, coming out Tuesday. "I haven't read the entire thing," Nigel hedged, "but we've been working on it since the last season of Top Model, so I am very familiar with all aspects of it." We speculated that this meant they were prepping some Modelland-themed shoots for this upcoming All Stars season. Nigel just smiled. "What are my eyes saying?" he asked. "My mouth is saying nothing, and my eyes are saying something else. I'm smizing an answer to you. Read into it." Trust me, kind sir, we will read the hell out of it. Possibly several times.

See the Complete Cynthia Rowley Sping 2012 Collection
See Backstage and Front Row Photos from the Cynthia Rowley Show
Also: See Lindsay Lohan at the Purple Fete in Our Party Photo Gallery