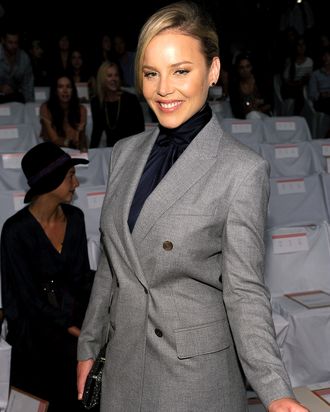 Abbie Cornish.
Photo: Dimitrios Kambouris/2011 WireImage
Y'all know how much we love a good rumor, and we were all primed to start one Sunday evening after spotting Australian actress Melissa George clinging to music mogul Russell Simmons in the front row at Tommy Hilfiger. George never let go of his hand the entire time Russell was doing interviews, snuggling up to his right shoulder and shooting sultry looks at the media; indeed, she only released him so that she could take copious cell phone photos of the runway show. We were stunned … until Google told us that they've been an official couple since the beginning of August. Where have we been? Let's just assume we were busy reading extremely important stories about economic theory or something, and therefore missed the reveal. It's true that they do both show up at Fashion Week an awful lot, so maybe they fell in love the old-fashioned way: talking about pants.
See the complete Tommy Hilfiger collection.
Watch the Tommy Hilfiger Spring 2012 runway show.
See Kellan Lutz, Ed Westwick, and more front row at Tommy Hilfiger.