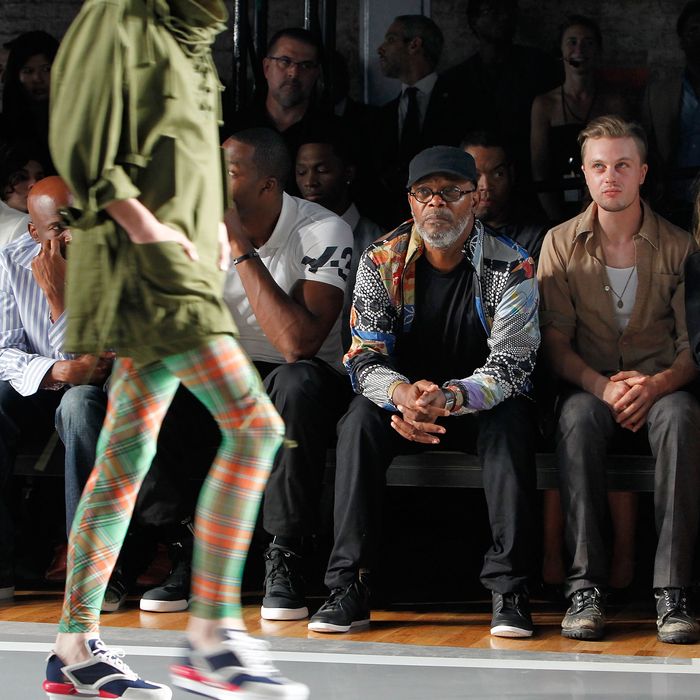 Samuel L. Jackson.
Photo: Joe Kohen/2011 Getty Images
Few things render us tongue-tied, but when the crowd of journalists at Y-3 on Sunday spat us out right in front of Samuel L. Jackson, we admit it: We froze. We have talked to Salman Rushdie about womenswear and once spent a blissful ten minutes talking to Kanye about whether he had an alter ego, but something about Samuel L. left us feeling tiny and dull. Maybe it was his robustly colorful shirt, or his ball cap, or the fact that he's an ex-Jedi Knight who kills snakes on planes. Whatever it was, when a small window opened up in front of him that was just the size of our tape recorder, we choked, and then were carried away on a sea of photographers chasing NBA star Dwight Howard. We may never forgive ourselves, and indeed may drown our sorrows in a Royale With Cheese.
The crowd surge carried us over into a clutch of photographers in front of the next section. "Ugh," said a girl next to us. "Peaches Geldof. I don't know what she does besides sit on people's laps at fashion shows." And, indeed, there was Peaches Geldorf, wearing a silver lamé dress and perched in the front row atop the lap of a dude with a bob. Regardless of her raison d'être, Peaches was photographed as fanatically as if she had a mile-long IMDb page. (Singer Omarion, on the other hand, was completely unmolested by the press, most of which didn't even notice he was there; perhaps his uncharacteristic Hawaiian shirt provided more effective camouflage than anyone could have predicted.) One of the snappers we spoke to explained that pictures of Peaches mean big money in British markets, so maybe we just don't get her appeal because we're Americans. Then again, we have no problem understanding Kate Middleton's appeal, so maybe the problem here is that we just don't speak Geldof.
See the complete spring 2012 Y-3 collection.
See font-row and backstage shots at the spring 2012 Y-3 show.