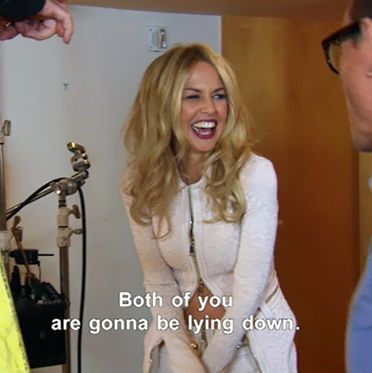 Rachel Zoe is pregnant!!!!!! Well, not in the real world anymore, but she is in Bravo-land, where everything is sunnier, more colorful, sparklier, and more amusing than it is in real life. The highly entertaining Brad Goreski, who is getting his own spinoff show on Bravo and, according to Zoe, deceived her and Rodger into thinking he wanted the simple life with his couch and his dog when he resigned, has been replaced by Zoe's bump — and watching her pregnancy in action is like Us Weekly on Ronnie-level steroids. And while we thought we would miss Brad on the season premiere last night, the bump 1000 percent made up for his absence, as did watching Rachel's clothing line come together. That line is perhaps equally important a character this season as the baby, since Rachel's focus has shifted to building her brand and launching the line rather than making sure actresses get arbitrary best-dressed accolades for standing on red carpets in front of cameras.
What We Learned About Fashion
• It's just as fun to style a baby boy as a baby girl. "I found out I was having a boy, and I did cry for a week. Or two. Maybe even three," Rachel says. "I always had this plan in my mind that I was gonna have this little baby girl that, like, came to Paris with me, and sat on my lap, and went to couture shows with me, but I'm over it. Because I found really cute clothes for a boy now." Besides, anything tiny is just better anyway, right? Puppy versus dog, kitten versus cat, etc.
• Stylists can get jobs without a ton of experience. Rachel decides to hire Jeremiah because she "loves [herself] a cute boy" and thinks he'll work his ass off. Besides, she notes, Brad and her other ex-assistant Taylor didn't have tons of experience when she hired them. Let's remember his first interview with the Zoes, which ought to be encouraging to any inexperienced aspiring anything with a good blazer and a knack for witty banter:

• If you're lucky enough to get a job with Rachel Zoe, having had fake to no experience styling, do not tell the Bravo camera you have never steamed something before. Half a million people who would have killed for that job now want to kill you.
• It's faster to make a baby than a clothing line. The Rachel Zoe Collection took fifteen months to launch.
• BREAKING: The fashion industry isn't very accepting. Rachel says she's scared to show her collection because Fashions aren't exactly rooting for stylists to come on with clothing lines and, what do you know,
be good at it
.
• When you have a clothing line to show to retailers and editors in New York, the actress with a premiere in L.A. is NUMBER TWO.
• The best thing to wear when you're pregnant and doing a shoot for a magazine is Givenchy.
• The best thing to wear at all, ever, is Givenchy.
• The best thing for your husband to wear to make him fade into the sheets at said shoot while your pregnancy radiance overpowers everything — him, mostly — and you are wearing actual clothes is Tom Ford pajamas.
• Rachel: "I realize you can't suck your stomach in with a baby."
• Children: wearing Givenchy — right? "I could suck up anything for fashion if I didn't think it was genuinely squashing my child," Rachel says as she wriggles her bump into the Givenchy, which she wore anyway.
• Rachel: "This is the thing about being pregnant — it takes longer to get dressed, and you end up in all black." Oh, so that's not just a living in New York thing?