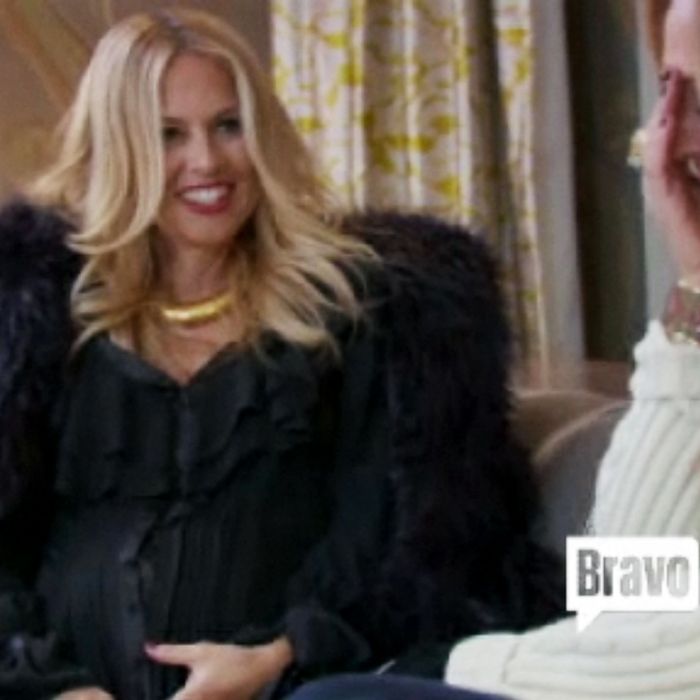 Rachel giggles at a penis joke.
In the middle of a dull New York Fashion Week came a dull episode of The Rachel Zoe Project. It's wonderful that her line has taken off, but we already knew it would take off before last night's episode, which was about how it was going to take off. Rachel got to shoot her WWD cover and show her line to a small group of editors and buyers in New York. That was nice and all, but where was the drama? Somehow, her stress has yet to manifest in her new gay male underling, as it did when Brad started, and we barely saw any of the initial baby clothes shopping. But there were still a few lessons in fashion and life.
Things We Learned About Life
• Mandanna might be younger than we thought. Much younger. When Rodger tells her that she looks very Material Girl, she does not compute. "I don't know what that means," she says. It means your name is two letters off from being Madonna, obvi!

Things We Learned About Fashion
• "We're showing to WWD," Rodger says. "They are the most influential fashion magazine out there." Oh weird. We thought that the paper it was made from was the same stuff that the Post is made from, and that having ink come off on your hands made it a newspaper. But Rodger knows more about fashion than everyone, except maybe Rachel, and even that can't be confirmed at this point.
• Apparently, one shouldn't need to ask what kind of jewelry should be pulled for Rachel Zoe's fashion presentation — but not for the reason we originally thought. Jeremiah asks if he should get simple stuff, and Mandanna wonders why he even asks since "it's so easy a monkey could do it." Since when does Rachel like simple jewelry? But, apparently, for this presentation, that's what she wanted.
• Jeremiah learns there are, like, many different shades of gold, such as rose, yellow, and silver, which is called "gilver." That is definitely the name of a celebrity's unborn baby.
• Doing photo shoots with other real models is not fun, even in this age of retouching. "It's like insecurity on the highest level," Rachel says when it's her turn to have her picture taken, even though she always looks good in photos.
• Rachel: "Getting dressed pregnant takes a lot longer."
• Questioning Jeremiah's lack of styling experience, Joey says: "A couch is a completely different thing than a dress."
• As a celebrity or stylist with no formal design training, a good way to go about your first presentation of a clothing line is to keep it small and provide narration. This makes it feel exclusive (read: important, fancy, and extra special) and proves that you can talk intelligently about the clothes. Of course, if you can't talk intelligently about the clothes, you're screwed. Rachel can, and now her line is doing very well.