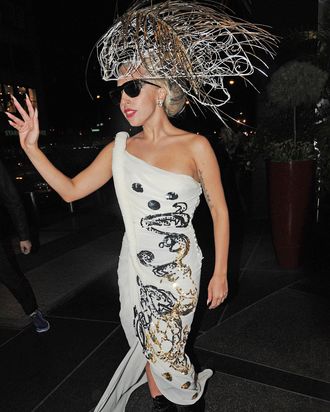 Lady Gaga.
Photo: Josiah Kamau/2011 BuzzFoto
You know that when People asks readers for questions for Lady Gaga to answer personally, you're going to get some silly, less-than-creative stuff. This is People, so they have to keep it PG, which is fine. But this question seems downright unnecessary:



With a wardrobe as wild and wacky as yours, is there anything that you wouldn't wear?
—Lidia A.N., Barcelona

There are so many things I wouldn't wear! I'm really just like anyone else when I get dressed. I just have a particular style and things that I like. I have these Norma Kamali black jersey pants that I wear for rehearsal and things. I'm not prejudiced against sweatpants. My form of sweatpants is just a bra and panties. Everyone's asked me that, like I have some vendetta. Wear what you like, be who you are.
Bravo to Gaga for not giving that movie the most predictable ending. But, dear Lidia, of course there are things she wouldn't wear. Look in your closet, pull out anything normal, have a nice long look at it, and you've just answered your own question.