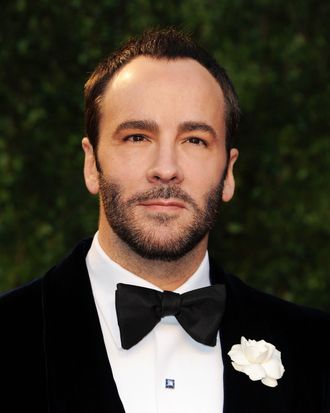 Tom Ford.
Photo: Pascal Le Segretain/2011 Getty Images
Le Figaro's Virginie Mouzat was initially told that only fashion editors would be permitted to attend Tom Ford's show in London, not journalists or critics. However, she got an invitation anyway. "Thus begins what will slowly turn into a nightmare," she writes in her subsequent report. Translated from French:

From the first model on the runway, we are struck by what resembles an out-of-style Gucci collection from ten years ago. The fussy complications of the cuts (drawstrings, shirring, high-waisted skirts, leg-of-lamb sleeves), the disheveled hairstyle of a girl barely back from happy hour, and the overdone makeup… Overload is the key word of the show… The laced shoe? An ersatz model of an Alaia. The jogging shorts in black leather? Already seen last year in Celine's cruise collection, as were the sandals with bracelet straps (here, encrusted with rhinestones).The coat bristling with raffia? A pale version of those in Yves Saint Laurent's spring 1967 collection.
Related: Fashion Critic Dares to Critique Tom Ford
Tom Ford - Inclassable [Le Figaro]