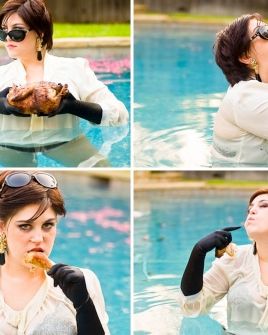 Nancy's contest-winning photos.
When Dallas-based performance artist Nancy Upton saw that American Apparel was holding a plus-size model contest, she decided to enter, but not for the reasons you'd think. She writes on the Daily Beast:

American Apparel was going to try to use one fat girl as a symbol of apology and acceptance to a demographic it had long insisted on ignoring, while simultaneously having that girl (and a thousand other girls) shill their products.
So naturally, Nancy's first step was getting a friend to photograph her eating an entire chicken and a pie, which she then submitted to the contest as a spoof. But things went haywire after she swept the first-place spot for the contest, which was determined by online votes. This was a total surprise to her, but even more of a surprise to American Apparel, who ultimately decided to skip over her when selecting their new "XL brand ambassadors."
American Apparel's Lame Open Letter To Nancy Upton, Plus-Size Model Contest Winner [The Frisky]
My Big, Fat Photo Spoof [The Daily Beast]