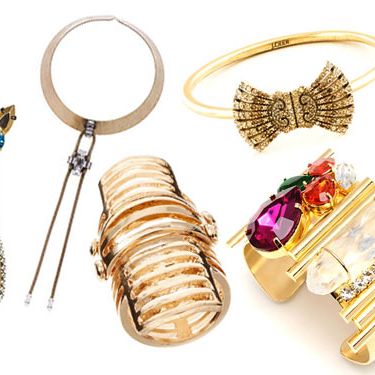 From left: Mismatched Drop Earrings by Iosselliani, Bailey Crystal Collar by Auden, Cut-Out Articulated Armour Ring by ASOS, Deco Bow Bangle by J.Crew, and Chelsea Cuff by Flutter by Jill Golden.
If the array of bejeweled showgoers in Paris has given you the itch to shop for new baubles, you're not alone. In our latest Shop-A-Matic we hunted down 140 of our favorite pieces of the season from budget-friendly costume finds to investment-worthy statement pieces. If chokers bring back memories of tacky Goth-inspired pieces from the nineties, think again: They're making a comeback in luxe materials like leather and sleek polished silver. Earrings are longer, dangling to mid-neck or even the tips of shoulders. While a stack of carefully mismatched bracelets can be effective street style bait a good arm party is far from the only way accessorize this season.
Chelsea Cuff by Flutter by Jill Golden
Price: $345
Why We Like It: Don't pile on the bangles with this cuff, the chunky multicolor stones are all you need to draw attention to your wrists.