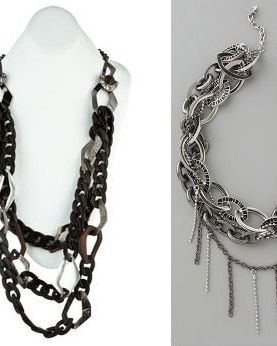 Alexis Bittar's necklace (left); Kim Kardashian's Belle Noel necklace (right).
Jewelry designer Alexis Bittar was strolling past the Dash store the other day — probably to gawk at all the people who still inexplicably queue up on the sidewalk and wait for the doorman to grant them admittance to spend $10 on water bottles — when he noticed something fishy. He tells the Post:

I saw that Kim's pieces [for her Belle Noel jewelry line] were very similar to mine … The tricky thing is that we have sent pieces to Kim in the past to wear, so now I have told my staff we cannot send anything to her. She was definitely influenced by my designs without a doubt.
Iced out! [NYP]