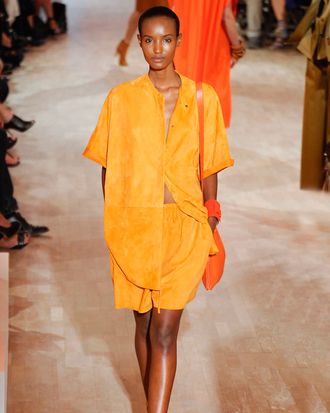 Despite what Tyra says, winning America's Next Top Model basically guarantees that a girl's high-fashion modeling career is doomed. With that precedent in mind, losing the competition might have been a stroke of luck for Cycle 10 reject Fatima Siad. Leaving the show as the third runner-up, 24-year-old Siad was then scooped up by New York Models, who currently represent Niki Taylor and Sui He. After three years of quietly working in the commercial market, shooting for department stores and catalogues, the Somali model landed on the spring 2012 runways for Dries Van Noten and Hermès — a Top Model first! Siad also confirms that she recently shot with Swedish photographer Camilla Akrans for Hervé Léger's spring 2012 campaign. We met with the refreshingly frank Siad this week to talk things Top Model and her transition into high fashion.
Why did you choose the reality TV route instead of seeking agency representation right away?
Basically, I didn't know anything about fashion. I was very nerdy; I went to Bryn Mawr and never even noticed models when I was 21. After going to Bryn Mawr for three years, I transferred to NYU, and as soon as I moved to New York, people were like "You should model! You should model!" That was the first time I heard it in my life.
Lastly, have you heard anything from Tyra after your successful show season?
No, I just got back three days ago. But I have to say, I think she's a smart business woman. Months ago, I ran into her in the Lower East Side and she hopped out of her car yelling, "Fatima, girl! I'm so proud of you!" She shows me love. I feel like she's always tried to coach me, but I was never there yet to understand. I always thought she was really tough on me, but now I see, I think she saw potential.