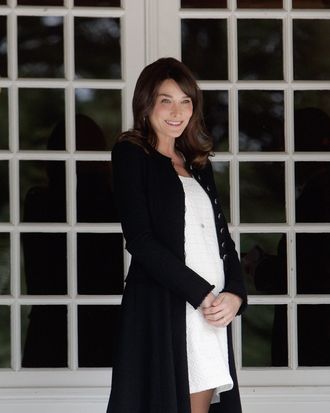 Carla et bébé.
Photo: Franck Prevel/2011 Getty Images
Although Carla Bruni-Sarkozy has insisted that details about her baby are "so uninteresting for French people," the hordes of paparazzi camped out in front of the clinic where she gave birth Wednesday night would suggest otherwise. Proud dad Nicolas Sarkozy addressed the press yesterday, but wouldn't reveal his newborn daughter's name; Carla finally did the honors on her website last night. (Side note: Yes, she has her own website! It's mostly about her foundation and work with Unicef and UNAIDS.) Her entry, titled "Thank-you message from Carla Bruni-Sarkozy," states:



I am deeply touched by the many messages of congratulations that I have received since the birth of our daughter Giulia.On this happy occasion, my husband joins me in expressing our warmest thanks to all those of you who sent us these tokens of your kindness.
[Official site]
Earlier: Carla Bruni Had a Baby Girl