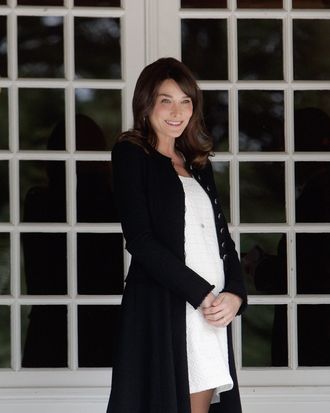 Pregnant Carla Bruni.
Photo: Franck Prevel/2011 Getty Images
France's First Lady, 43-year-old model/actress/singer Carla Bruni, gave birth to her first child with President Nicolas Sarkozy last night in Paris at the Clinique de la Muette. There's been no announcement about the baby girl's name, and Bruni has previously insisted they won't release any photos of her, either, since such things are "so uninteresting for French people." President Sarkozy was not present for the actual birth, since he was in Germany for talks on the eurozone debt crisis, but he arrived at the hospital a few hours later. The Elysee Palace says it will not make any announcement, since it is "a private family matter," but Sarkozy told the press today:



All of you who are parents can understand the very deep joy that Carla and I feel. Each one of you can also understand that it's an even deeper joy because it is private … We have been lucky to have a very happy event take place … I will just keep to these few brief words to say to you that they are doing very well.
The baby is the first child born to a ruling French leader since Napoleon. Just think of all the advancements in children's wear since then!
Earlier: Carla Bruni Is in Labor
Carla Bruni and Nicolas Sarkozy have baby girl [BBC]
President Sarkozy speaks of 'deep joy' over birth of baby girl with first lady Carla - but he refuses to reveal new daughter's name [Daily Mail UK]