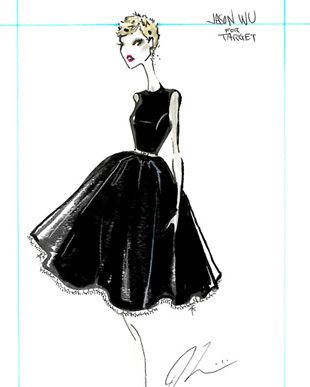 No images of the line have been released, though samples must have already been made since the press preview is next week. So, here's what you, the shopping public, can see until Target decides to let you see images of the actual clothes, which go up for sale on February 5, 2012: a sketch! Of a dress! It looks lovely and approachable and just the kind of thing that would do really well in markets that aren't as fashion-centric as New York. Another reason to get excited about the line: The invite for the press preview has a black cat wearing a bow on it. Maybe we'll get some cat-prints at prices we can afford.
FIRST LOOK: WU FOR TARGET [Elle]
Update: Target has also released a video of Wu talking about the line and playing with what look like some of the pieces from it. Apparently the cat is part of his inspiration.