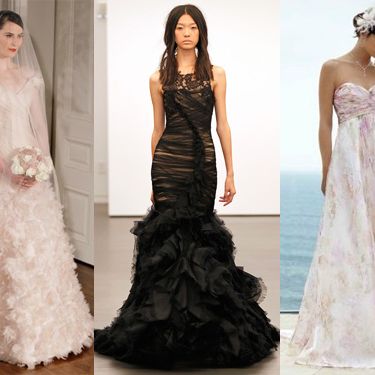 A blush gown by Romona Keveza, a black gown by Vera Wang, and a printed gown from David's Bridal.
Photo: Peter Michael Dills/2011 Peter Michael Dills
Little girls don't grow up fantasizing about getting married in dresses that aren't white. But designers sure want them to, judging by the latest round of bridal fashion shows that recently concluded in New York and boasted more colored wedding dresses than ever. Non-white bridal gowns have been shown on the runways every season for years, but it's always hard to tell if these dresses actually have any traction in the market or if they're just a wedding dress designer's way of evading having to show another white dress. (I've always wondered if all the bridal industry's names for white — eggshell, ivory, cream, silk white — were merely a reaction to white fatigue.)
Vera Wang, arguably the most influential and popular bridal designer in this country, didn't show any white dresses at all in her spring 2012 show, but the opposite: black. The gowns that weren't black were nude. It almost felt like a gag reflex, not only to wedding culture but to all the stark white runway looks that have been forced on us for two springs in a row now.
But she probably got so scared because a lot of people do care. Hillary Cowan, 26, bought a blush pink dress from Vera Wang's David's Bridal line to wear for her wedding in August of next year. "I tried on a lot of white dresses before I tried on the pink one," she explains. "When I walked out of the dressing room and saw it in the mirror, I fell in love with it. There was nothing stopping me." But she remains keenly aware of the "stigma" attached to colored gowns: "Of course, when I told my parents what color my dress was, my dad was like, 'Pink? Why did you get pink?'" she says. Though her parents came around, not every bride's will — she's not the only one the event has to please, after all.