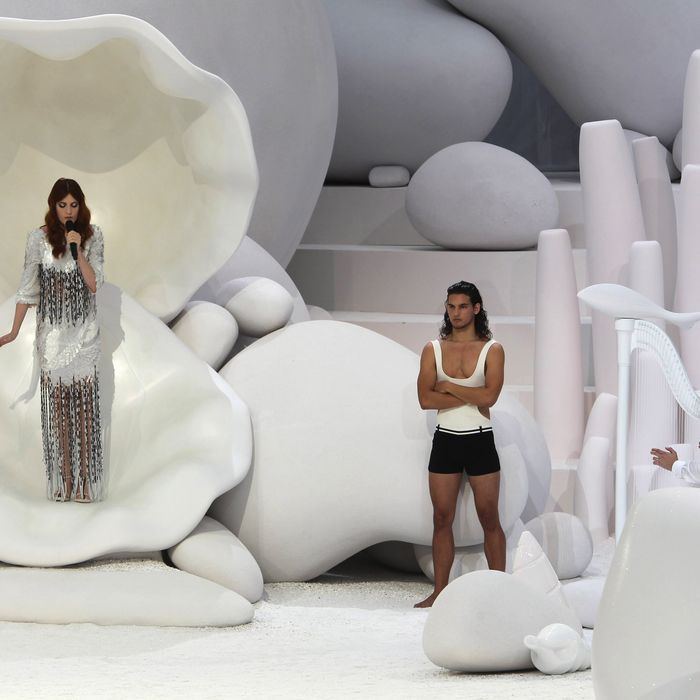 Best fashion show moment of the spring 2012 season.
Photo: Antonio de Moraes Barros Filho/2011 Antonio de Moraes Barros Filho
If you're like anyone with eyes, you're still recovering from the wonderfulness that was the spring 2012 Chanel ready-to-wear show. The under the sea–themed program — for "fashion show" seems too weak a term to describe it — showcased clothes embedded with many aquatic details, which were hard to pick out when surrounded by white fish sculptures, a man in skimpier, tighter clothes than most women wear to aerobics class, and a singer standing in an oversize seashell. Oh, and the live music from the custom fish-harp. French journalist Elizabeth Quin describe the clothes in some detail in a post on Chanel's website:
The dress with embroidered shoulders bears a trompe-l'oeil of lacy seaweed below the waistline. Karl Lagerfeld has been having more fun than ever!

Not many people can dress middle-aged women in coral and seaweed (which, with Rihanna's Esquire cover, seems to be having a moment), charge four or five figures for it, and be heralded a genius.
CHANEL MY UNDERWATER LIFE [Chanel News]
Related: Where's a Cartoon Crab to Sing This Post About Chanel When You Need One?