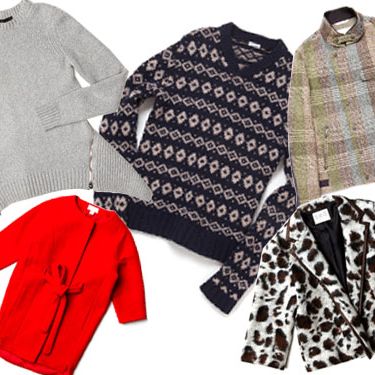 Clockwise from left: Front Sleeve Pullover with Zip Back Peplum by Alexander Wang, Crossover V-neck by Steven Alan, Deck Jacket by rag & bone, Leopard Felt Jacket by SEA NY, and Boiled Wool Coat by H&M.
We've had a mostly pleasant fall thus far, but it'll be cold and snowy before we know it. Sipping hot chocolate and huddling by a crackling fire may sound cozy, but realistically, most of us will be relegated to freezing, fireplace-free apartments for most of the winter. Our latest Shop-A-Matic features cozy sweaters and warm coats to ward off the winter chill. Fight the urge to sink into a depressing black-and-gray palette once the temperatures start to drop, especially since this season's collections offer boldly patterned sweaters and brightly colored warm coats in a variety of hues, from cherry red to cobalt blue. Just because it's dreary outside doesn't mean your clothes have to be dull as well.
Boiled Wool Coat by H&M
Price: $130
Why We Like It: The retro-inspired cocoon shape on this coat takes on the sixties trend without looking overtly vintage. The bright-red hue is a cheerful hit of color in a sea of drab black coats.